Wondering what Cultural Competence means in practice? Join the ITL Network and the Federation of Asian Canadian Lawyers for the next edition of our diversity and inclusion series as we chat about Cultural Competence. The Law Society of Alberta and BC now requires lawyers to complete cultural competency training in response to one of the recommendations of the Truth and Reconciliation Commission.
Date: July 29, 2021 Time: 12:00pm MST | 2:00pm EST
Registration Fee: $20 CAD
Student discounts available for students. Please send an email to info@itlnetwork.ca for details.
Lawyers are advised to consider including this as a learning activity in their mandatory annual CPD plan.
Join us on Thursday, May 27, 2021 for a unique opportunity for lawyers and law graduates from around the world, the accreditation and licensing bodies, and legal associations devoted to internationally trained lawyers to connect and celebrate internationally trained talent in Canada.
Now in its 7th year, Osgoode's Internationally Trained Lawyers Day (OITLD) is designed to bring together diverse, internationally trained talent with experienced members of the Canadian legal community to discuss tips and strategies on how to make your international training stand out in the Canadian legal landscape.
During this full-day event, take part in highly informative sessions from legal associations including the National Committee on Accreditation (NCA), the Law Society of Ontario (LSO), The ITL Network as well as a number of public, private and diversity association members to gain advice and insight into making your impact within Canada's legal sector. View the agenda for the complete list of sessions and speakers.
#OITLD21
Click here to register for the event.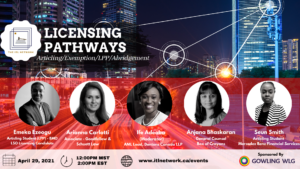 Are you an Internationally Trained Lawyer wondering what the best pathway to getting licensed as a lawyer In Canada? Join The ITL Network and other internationally trained lawyers as we discuss the different pathways to becoming a lawyer in Canada.
Guests: Emeka Ezeogu (Articling Student – BMO), Arianna Carlotti (Associate – Goodfellow & Schuettlaw), Anjana Bhaskaran (General Counsel – Box of Crayons) and Seun Smith (Articling Student – Mercedes Benz Financial Services).
Moderator: Ife Adeoba (AML Lead – Dentons Canada LLP)
Date: April 29, 2021 Time: 12:00pm MST | 2:00pm EST
This is a FREE event, but registration is required!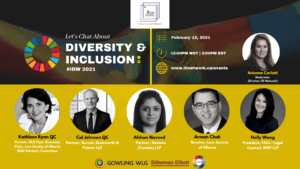 Join Kathleen Ryan (Partner, DLA Piper & Chair, Diversity & Inclusion Committee – Law Society of Alberta), Afshan Naveed (Partner, Dentons Canada LLP), Cal Johnson QC (Partner, BDP & Member Diversity & Inclusion Committee – Law Society of Alberta), Arman Chak (Bencher, Law Society of Alberta) and Holly Wong (Legal Counsel MNP LLP and President, Federation of Asian Canadian Lawyers), during the International Development Week 2021 (February 12, 2021) as we chat about Diversity & Inclusion.
Moderator: Arianna Carlotti (Attorney, Goodfellow & Schuett Law)
Date: February 12, 2021
Time: 12pm MST | 2pm EST | 11am PST

Save the date and join us for a virtual Fireside Chat event featuring conversations on:
-Articling/Summer Positions – Application Tips
-Standing Out in the Recruitment Process
-Fit and Culture
-Effective Remote Interviewing Tips.
Our guests for this edition of the Fireside Chat series are:
Annaliisa Sando – Manager, Student Recruitment & Programs (Bennett Jones LLP)
Eric Pye – Student Services Advisor (CPLED)
The chat will be moderated by Moyosore Balogun, Solicitor at the City of London and the host of YouTube channel 'Ask Mo".
Date: Friday November 27th, 2020
Time: 12:00pm (MST), 2:00pm (EST)